---
This should be mandatory reading the first day of every college semester, at the start of any activist rally, inserted inside the front cover of every Quran and posted at all border points of crossing.
Selected paragraphs:
How Not to Get Shot by a Soldier
Daniel Greenfield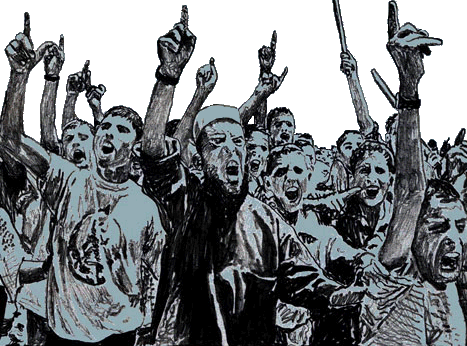 The following is intended to serve as a useful guide to various activists, protesters, migrants and other completely non-violent folk who happen to be packing knives, guns, rocks and crowbars. You will encounter soldiers, border patrol officers and various law enforcement and military personnel – this is how not to get shot by them.
…
The good news is that there is a very easy way not to get shot. It starts with you not attacking the nice men in uniform. That means not trying to disembowel them with your peaceful knife and not throwing rocks at their head. Because while you might think that legal activism includes attempted murder, the nice men in uniform think that attempted murder should result in sudden death. And when that happens you will realize that fanatical passion for your poorly thought out cause and a medieval weapon are no match for trained law enforcement officers who have guns and know how to use them.
The thing to remember is that while just about every revolution you read about does involve a crowd of people rushing at armed men, those people usually end up dead or in a lot of pain. You should expect to have the same thing happen to you. Putting on a Kefiyah or a pair of Birkenstocks does not exempt you from the laws of physics, or the code of common sense. And considering that Allah failed to save numerous Muslim armies and crystal power never levitated the Pentagon, this kind of story can only have one conclusion. Putting all politics and wacky beliefs about a pedophile who rode a flying horse aside, if you attack someone, you should expect them to respond. And if they have a gun, they will respond with bullets. At that point you will either become a martyr or the world's ugliest man.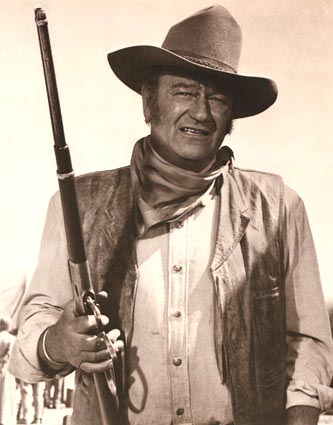 Everyone has their own narrative and play the hero of their own story. And while you might have a great story in which you are the Mahdi or the reincarnation of Che, the man you're attacking just might have a story in which he's John Wayne. And just to refresh your memory, Che was shot in his thirties by the Bolivian Special Forces. The last Mahdi died of Typhus in his forties in a besieged city and his remains were tossed into the Nile along with the rest of the trash. John Wayne died peacefully in his seventies. Which fate would you rather have?

Since the dawn of time, men have guarded the borders of their nations. The border indicates that the lands within are the possession of their tribe and their chieftain. That border may only be crossed with the permission of the laws of the people who rule over it. To cross that border without their permission is to invite war, or at least a shower of arrows, spears or more lately, bullets. To cross that border for hostile purposes is to take your life in your hands. And unless you have an army with you, those hands are slick, greasy and operated by a mind completely devoid of common sense.
…

What you need to understand is that for you violence is political. To soldiers and law enforcement officers, violence is only a tool. In your mind, your attempt to kill is noble, while his attempt to kill you is vile and cruel. In his mind however there is an equation, violence set against violence. He does not particularly care what you believe, just that you not attack him while you are believing it. To you he is only a rage puppet in a political or religious narrative. To him, once you attack you are nothing more than a moving target. Understanding this will help you to not get shot. Failing to understand this is how martyrs are made. But the thing about martyrdom is that the health plan is terrible and there's no long term prospects to it at all.

The difference between violent activists and law enforcement and soldiers, is that violent activists want to kill people, but lack the necessary skills to do it well. While law enforcement personnel and soldiers have the skills to kill people, but would rather not do it. When angry people with rocks, knives, crowbars and a few guns attack trained personnel with guns, the victory goes to the people who are trained to kill, not to those who want to kill. And when the blooded radicals complain about disproportionate force, what they're really doing is whining about how surprisingly hard it is to kill people.
…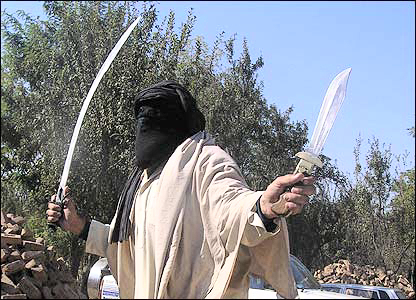 The terrorist is utterly terrible at the art of war, but excels at the art of making his innocent victims suffer. The soldier dispatches his targets quickly and cleanly. For the terrorist however, inflicting agony is the sadistic purpose of the entire exercise. The suicide bomber gives himself a quick death, while mutilating those in his vicinity. He spreads horror and shock. And of course terror. But the media finds something awful about the soldier who executes his target with one round to the head, and something faintly heroic about the suicide bomber "making a statement" by taking away the arms of a 13 year old girl. Because the media radicals admire murderous passion, but find something horrible about the detachment of the soldier just doing his job. To kill horribly because of passion is somehow better in their eyes, than to kill cleanly and dispassionately to keep the people around you safe.

But terrorists only exist when they are tolerated. And they are tolerated by people who do not think like soldiers, but think like the media. Who want to find ways of making terrorists less angry, rather than finding ways to make more terrorists dead. Such people write narrowly restrictive rules of engagement, prosecute soldiers for defending themselves, and are outraged when a bullet prevents a massacre, rather than being outraged by the planned massacre instead.

The full article is here: http://tinyurl.com/2cvaakf
---
Note: Some formatting from the original newsletter may be lost in this reprint.